Chris Weston worked as an electrician at the 1970 Isle of Wight Festival, and photographed behind the scenes action whilst the stage was being constructed, as well as the pop acts and the huge crowds. Chris sadly passed away in 2017. His family and a close friend are working together to ensure that his legacy lives on in his iconic photographs.

We hope you enjoy browsing through these images, which form an authentic social history of this huge event for the many thousands of people who can claim "I Was There".

For further information and availability, please contact us on Facebook at:
Isle of Wight 1970 Pop Festival Limited Edition Images by Chris Weston,
or via email: iow1970imagescw@gmail.com
The 3rd Isle of Wight Pop Festival - The Last Great Event August 26th - 30th 1970
Festival Images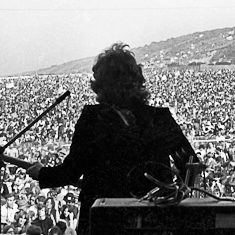 A selection of ready to mount Isle of Wight 1970's festval prints.
View Images
Festival Montages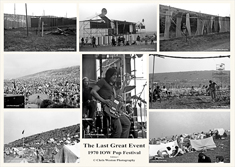 Now available a set of 12 different ready to mount prints.
View Montages
Festival Publication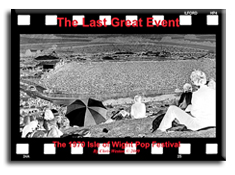 A limited edition photographic record now available.
.
View Book
Photographs and content on this website are Copyright © Chris Weston. All Rights Reserved. Reproduction of any image and/or content, in whole or in part, or in any form or medium, without the express written permission of the copyright holder is prohibited.